Vbrick Leverages Cisco Spark APIs to Help Transform Video Comms and Distribution in the Workplace
April 8, 2018

Francis Geck
Works with Independent Software Vendors who have embraced the Cisco Collaboration API's

Ever consider that corporate 'town halls' and 'all-hands' meetings create invaluable content your company can leverage in other ways for continued business success?  Ever consider your other various meeting activities - e.g., sales presentations, customer training sessions, and product roadmap discussions - are just as invaluable?  If so, realizing that they can be amplified, shared, and edited into other content, providing more value to you and your business?
If you have (and we believe you should!), what would you need to accomplish that?  Video streaming, recording, content storage and management - necessities for sure, but how do you acquire all of those tools in an integrated package with an easy to use interface?  Especially because this must be delivered without a hitch, even amidst the many challenges and obstacles of network compatibility and stability, with the ability to do it at scale, for potentially thousands of participants.
That's where long time Cisco Integrator Partner Vbrick comes into play.  They offer a compelling, next-generation enterprise video platform that integrates with and leverages Cisco Spark to provide what we believe is a true solution, and thus is better than anything else currently available.  Vbrick has been using the power of video to transform the workplace for a long time, too, in a wide variety of industries.  Check out their customer list, organized across verticals, which includes premier clients like  Pfizer, Novo Nordisk, Western Digital, Chevron, and Cisco (yep, we use them).

Vbrick has embraced our strategic direction with integration to our cloud collaboration API's - specifically, our Cisco Spark API's.  Vbrick is a great example of a long time Cisco partner that's embraced Cisco API's from the start.  Why? Because they've recognized the advantages of being aligned with the superb cloud-based collaboration platform that Cisco Spark provides.  Cloud-based video communications is clearly the future, and we're thrilled that Vbrick, along with many other long-time Cisco partners, are fast-tracking features that integrate with Cisco Spark.

Figure 1: Live streaming to global audiences directly from Cisco Spark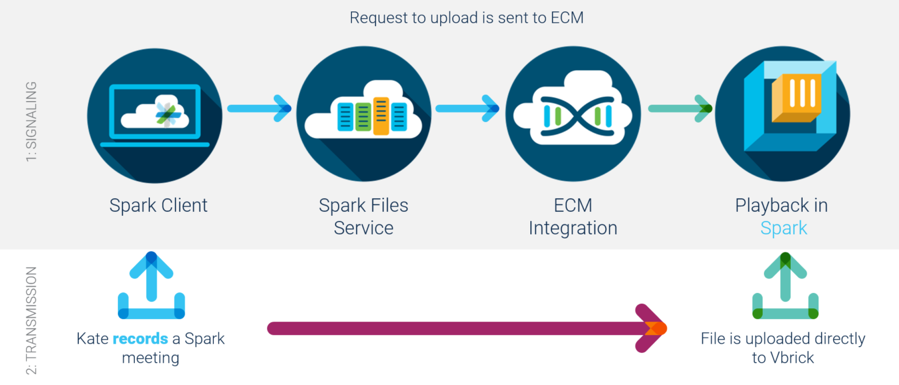 Figure 2: Automatically record and upload videos to Vbrick REV
Vbrick uses Cisco Spark API's to enable features like the recording of services from any Cisco Spark-enabled device, using the Vbrick "Rev" bot.  Rev enables you to start and stop a new recording.  Additionally, Rev enables you to search the recording database for content.  Accessing Vbrick from within Cisco Spark is simple, too.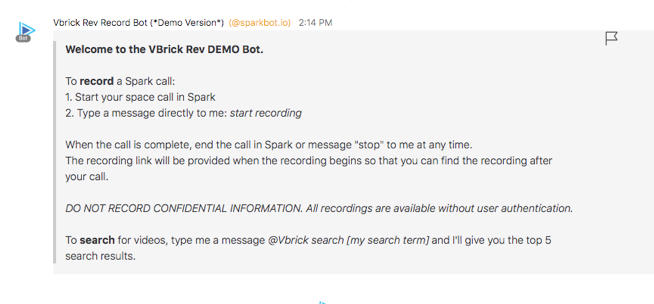 Add to this the fact that Cisco Spark hardware endpoints provide movie studio quality.  For example, when you do a session utilizing a Cisco DX70 system or Cisco Spark Board, it looks truly amazing.
If your company already is using Vbrick, you'll definitely want to check out these integrated Spark capabilities.  If not, review the entire Vbrick offering. Together, we're a powerful, next-gen, cloud-based video collaboration, management and distribution solution for the enterprise.