Think. Build. Hack. All at TechCrunch Disrupt New York!
May 12, 2016

Alice Cho
Product Marketing Manager, Cisco Collaboration -- Alice is a collab tech fanatic that loves music!

TechCrunch has once again Disrupted New York and they took Cisco Spark and Tropo with them. In a race to be the biggest and brightest tech startup, innovators from all over converged in The Big Apple to realize their dreams by building their apps and pitching their ideas in front of a crowd of peers and a panel of judges at the 24-hour hackathon.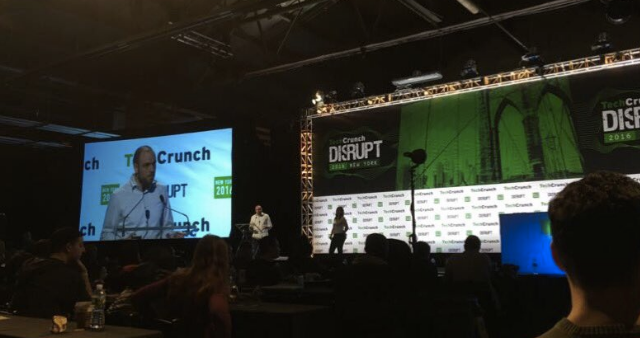 Among those innovators were the brilliant minds who decided to build upon Cisco Spark and Tropo APIs. Take for example Irene Chang who mashed up Spark with IBM's Watson to create a chatbot that will pretend to be you when you're away from the keyboard! Or the CrowdBuilder crew who used Tropo to build an app that will promote events. Check out this MAILBOT app that integrated Office365, Watson and Spark to summarize your emails so you can provide vocal input so that MAILBOT will create professionally formatted email responses, all flowing through Spark! FaceTech focused on safety and security, using Tropo and facial recognition to send safety alerts when unfamiliar faces are at your door. Rapid Feedback Club integrated Watson and Spark to provide transcription of meetings in progress into a Spark room.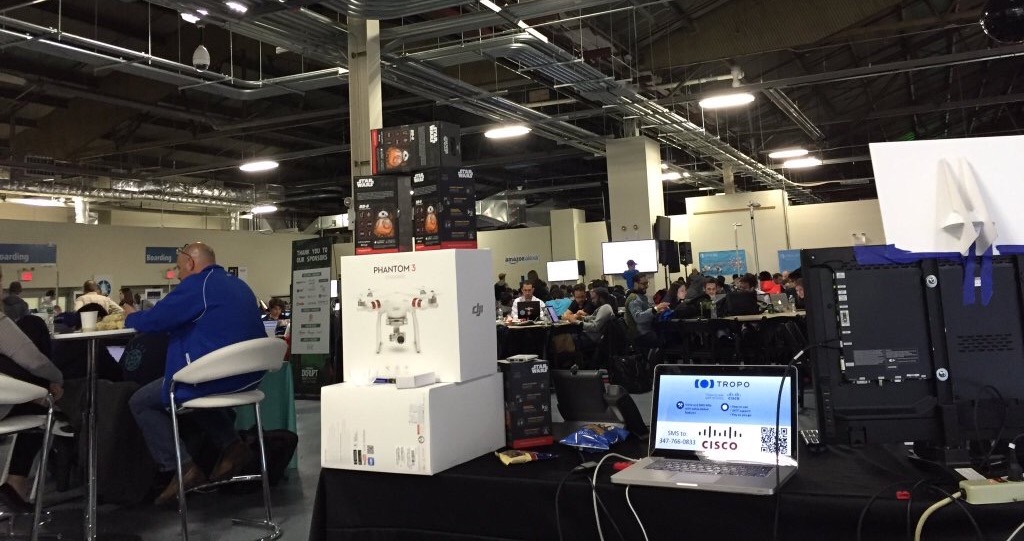 Teams with the best use of our cloud APIs won DJI Phantom 3's and Sphero BB-8's: FaceTech, Rapid Feedback Club and MAILBOT.  Take a look at these eleven submissions using our APIs. There were tons of things to talk about from TechCrunch Disrupt New York, but a picture is worth a thousand words, right? Here are some pictures and tweets from the event that caught our attention.
Awesome chatbot from @TechCrunch #techcrunchdisrupt built on @CiscoSpark https://t.co/2TxWUbkEoX

— Jonathan Rosenberg (@jdrosen2) May 9, 2016
Move over Hooli, @CiscoSparkDev and @Tropo #APIs taking over #TCDisrupt this weekend! https://t.co/flLZQPX3cG #sms #chatbot #CiscoSpark #in

— Justin Ramirez (@justinthetechie) May 8, 2016
#HackDisrupt enjoying the hack pitches. Considering the short time span pretty cool hacks from everyone. pic.twitter.com/I791148ExE

— Chris Norman (@voipnorm) May 8, 2016
Cisco was also at the conference talking to developers and business minds alike demonstrating our developer friendly APIs, SDKs and a Spark connected SX10. Also, atendees got to learn about our Spark Innovation Fund. We are excited to see what TechCrunch Disrupt San Francisco has in store. Will we see you there?
Be sure to follow us on Twitter to see where we'll be next!