The Cisco Spark Depot: Bots and Integrations Have Arrived
November 1, 2016

Jason Goecke
CTO and chief dreamer of all things that make life easier.

We'll admit it: the Cisco Collaboration team is a little obsessed. When we're not rolling out new products to help transform the way you work, we're busy improving platforms you already use. Why? We believe in the power of continuously simplifying communication in all its forms, because we know the more intuitive and intelligent your tools are, the better you're able to focus on the work that matters to you.
We're especially excited to unveil the Cisco Spark Depot, our latest, greatest expansion to Cisco Spark. Simply put, the Spark Depot is an ever-growing catalog of integrations and bots for businesses of all shapes and sizes. Now, the apps you rely on, like Salesforce, Trello, Jira, Box, and more, can be instantly configured to connect to the Spark team-rooms of your choosing. This means less flipping between applications. But it also means that the work you do in one tool is seen by the rest of your team. With a little help from the Cisco Spark Depot, you'll work smarter while you work together.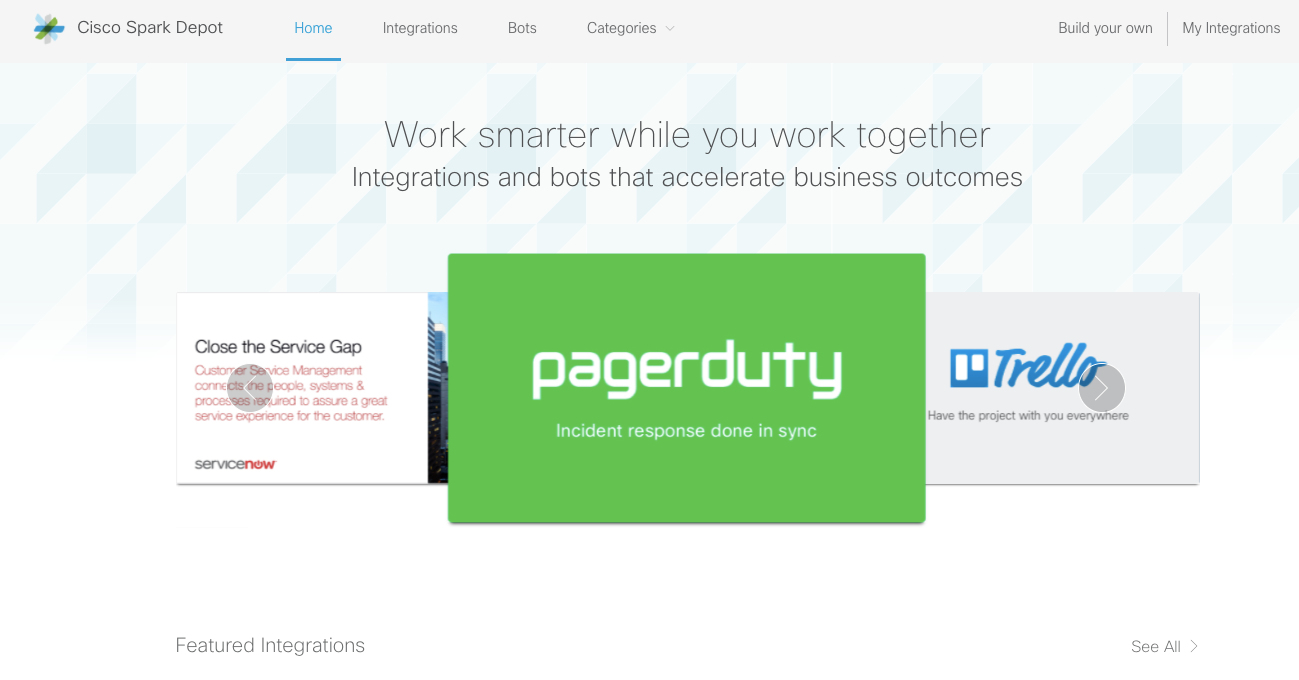 First, some clarification is in order. Bots versus integrations: What's the difference? An integration provides basic notifications for a service, acting on behalf of a Spark user. On the other hand, a bot can perform tasks for any of the users in the room, presenting itself as another user or machine account. In addition to sending messages, a bot can post files and respond to messages — even join calls.
If you're a developer, partner, or ISV, you might be wondering how you can contribute your own bot or integration to the Spark Depot. You can easily submit your ideas through the Cisco Spark for Developers portal here. Once you do, we'll run both a business and technical review. Users can submit feedback, report issues, and even request new integrations and bots through the support link in your app page. Now that the Spark Depot is live, why wait to submit? You'll help make Cisco Spark even better, and become an early, visible player in our expanding platform ecosystem.
Simple for consumers, simple for developers. Those are just two of the many strengths of the Cisco Spark Depot, and we can't wait to see how you use it. Though the Spark Depot launched today, we're already thinking about what's next. Stay tuned and follow @CiscoSparkDev for the latest news.