Quick Tour of Spark for Developers
December 15, 2015

Alice Cho
Product Marketing Manager, Cisco Collaboration -- Alice is a collab tech fanatic that loves music!

Yep, there's really only one type of tour we can do for our portal (the quick kind).  That's because we built it and everything inside to be pretty self-explanatory.
Or, as Rowan would say, "Simple. Magical. Open." That is Cisco's vision for collaboration and exactly what you'll find here. We explain our APIs in plain language and even let you test them without leaving the site. What you create with them is up to you; the possibilities are endless (yes, that's silly marketing speak, but it's also the truth). And because it's important that anyone can develop with our platform, we provide 24x7 support 365 days a year.
So here's my quick tour about Spark4Devs, as I like to call it (sorry marketing folks).  There's much more info on the site, so if you want to bypass my ramble, I think you'll be just fine.
Sign up with a free Cisco Spark account.  Don't wait, people.  This is how you get access to 24x7 support in the #SparkDen. We're around to assist via email or in a Spark room full of helpful resources.  Use the same account you have for your Cisco Spark app.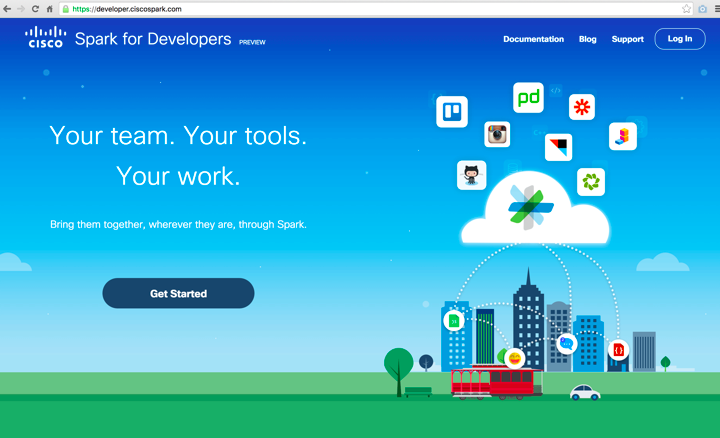 Play around. This won't shock you, but our Getting Started page is a great place to begin. From there, I'd recommend checking out the Quick Reference page as it covers all our APIs and makes it easy to get going right inside the portal. Click on an API, toggle to enable Test Mode, and you'll be making a sample in seconds. Along the way, you'll be introduced to our helpful pup Sparky (a.k.a. bot). He'll help you test your code and connect you with support if needed.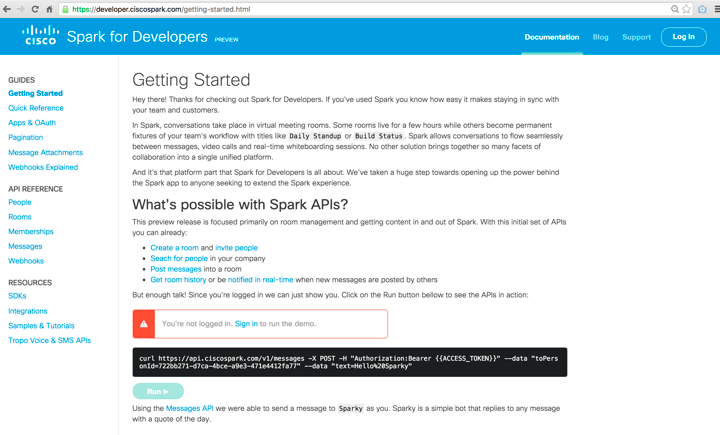 Follow us.  Stay tuned for updates about our platform from our blogs and follow @CiscoSparkDev on Twitter.  Ask questions, share comments, and join in the conversation. And find us on Github!
Not a developer? No problem.  Native integrations and app integration services make it easy to get the benefits of connecting the tools you use without having to write a single line of code. These are available now for free inside the Spark app.
That's all for today. We've poured our hearts into this portal and can't wait for you to get started.