New and Improved Submission Form for Cisco Spark Depot is Here!
November 20, 2017

Nisha Sukumaran
Sr. Product Manager

We've been working hard to make it easier than ever for you as a Cisco Spark developer to submit new integrations and bots to Cisco Spark Depot, the home for innovative and useful integrations and bots to enhance Cisco Spark and accelerate business outcomes.
The fruits of our labor, you ask?  A new, improved submission form, now available on the Cisco Spark for Developers portal.
We think our new form offers you a much better user experience. It also speeds up our review process, empowering the Cisco Spark review team with the ability to review and approve new integrations and bots you've developed for posting to the Cisco Spark Depot faster.
New submission form features and benefits
You can now easily upload and edit custom files directly, including images and screenshots, instead of having to create Content Delivery Network (CDN) URLs (yes, we've felt your pain there).
You can also now submit your new integrations and/or bots directly from the My Apps section where you provisioned them, so you no longer need to worry about searching and submitting the correct app ID.
There are also instant checks now for most of the submission fields. This reduces the overall time of the review process, since our reviewers don't have to make as many fixes after submission.
After you make a submission, you can edit and check on its status directly within the My Apps section in the Cisco Spark for Developers portal at any time.
A submission ticket is now instantly created and assigned to our 24x7 Review team to immediately start the review process. This eliminates delays using the previous, manual 'hand off' review process, ensuring that your submissions are now reviewed instantly. Plus, you can easily communicate with the review team now through the ticket itself.
Simple and fast, right?
Finally, we also appreciate that it can be difficult to select an icon, in addition to choosing the correct size and generate a CDN URL–all while you are in the midst of provisioning a bot and primarily thinking of how to build your functionality. So, as icing on the cake, we've introduced default icons to choose from. Translation? Now it takes just five seconds to provision your bot!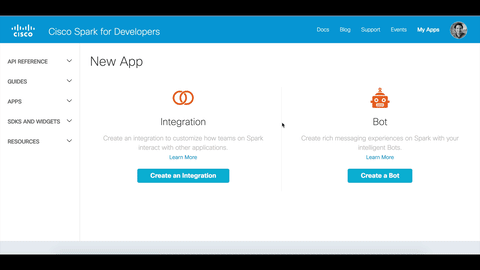 We're confident you'll want to take advantage of our new submission form. As you know, not only do Cisco Spark integrations and bots help end users work smarter while they work together, we're helping you work smarter and better together with us.
Our new submission form to accelerate the pace of adding new Cisco Spark integrations and bots means further accelerating business outcomes for everyone.  So, go forth, submit away, and prosper!