Driving Positive Change in Higher Education Student Retention
January 22, 2018

Justin Ramirez
Head of Global Ecosystem Business Development for Cisco Webex

Ask leaders of higher education across North America about their biggest challenge. You'll get a consistent answer: student retention. The impact of a student dropping out can be staggering for both the institution and the student. The school has invested in that student's educational development. And the student often leaves burdened by loans without the earning potential needed to address them.
For schools, a key to improving student retention lies in leveraging big data analytics. Specifically, using data to identify the students most likely to drop out and finding a way to intervene before it's too late. But intervention isn't easy.
How do you identify which students are most at risk?
How do you know which students are slipping away?
How can administrators provide support to students at crucial points?
This is the exact problem that Involvio, a Cisco Spark integrator partner, solves for institutions around the world. Involvio offers a compelling combination of mobile applications, AI, and communication capabilities designed to improve student engagement and retention. And it's all built on Cisco Spark APIs.
Involvio's app integrates with leading student information and learning management systems to simplify student access to services. Schools can customize the app with branding, programs, student activities, sporting events, financial aid, public safety, housing, and more.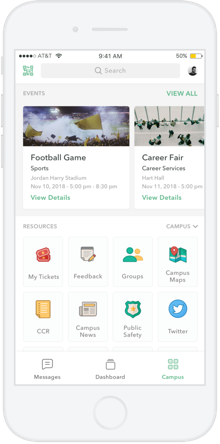 The app can identify which students are taking advantage of particular services and how engagement is increasing—or fading. With this information, Involvio can programmatically check up on students. By comparing current engagement to that of students who have dropped out, Involvio's AI builds rules that help predict which students may be at risk and automate critical intervention processes.
Here's where Cisco comes in. Schools communicate with students through the Cisco Spark platform. Staff can initiate a high-quality video interaction from within the Involvio app, such as connecting an advisor with a student at a time when she or he needs it most.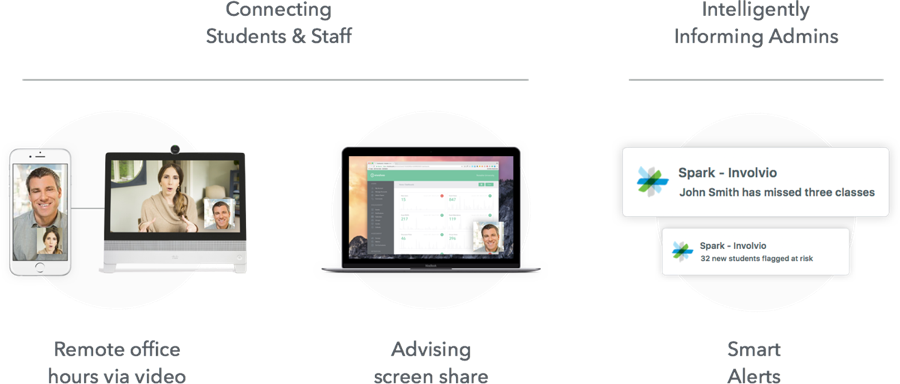 Personal interaction could make the difference between a student staying or dropping out, so video connectivity is critical. Busy students can find it challenging to set up walk-in appointments. And at-risk students may consider an in-person meeting intimidating. Video on a mobile device is more comfortable for the student, while providing both student and advisor with an opportunity to get to the root of the problem. (All while capturing rich utilization data).
With a Cisco video device such as a Cisco DX80 or Cisco Spark Board in an administrator's office, the images are crystal clear. Combining Cisco Spark technology with Involvio's app provides the best remote interaction possible, reinforcing the school's brand and showcasing its ability to more effectively interact with students in today's mobile-enabled world.
Involvio's solution can not only help higher education address student retention challenges, but also help students have a more fulfilling experience by keeping them engaged. Cisco is proud to play a key role in enabling this solution.