Check Out the Updated Webex Calling API Documentation
August 29, 2023

Phil Bellanti
Senior Webex Developer Evangelist

The Webex Calling platform has experienced a tremendous amount of growth in a short amount of time, with a slew of new APIs, SDKs, webhook events, and more. As one can imagine, with all these updates comes more added content on the developer portal. To make things easier for everyone, we are pleased to announce that we have also revamped the documentation and site navigation for Webex Calling APIs. With these changes, developers can spend more time coding and less time searching for documentation. For starters, check out the brand-new Webex Calling Overview page for a quick rundown of the developer platform options and how to best navigate this site.
More Content and Better Navigation
One of the first things people may notice is the Webex Calling is now separated into its own section in the left navigation pane, apart from Webex for Broadworks and Webex for UCM documentation. We have also added a new section for the Webex Calling Beta program, for developers who want to try new API features and releases before anyone else (register for the program here).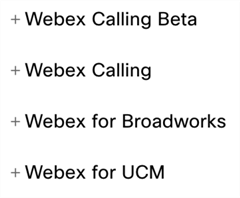 When the Webex Calling section is expanded in the navigation pane, there are now a couple new subsections below the "Overview" link. The first new subsection is "SDKs and Tools", which takes us to a new landing page for the dedicated Webex Calling SDKs.  Underneath that is another subsection called "What's New", that navigates to brand new announcement page that publishes all the major updates to Webex Calling APIs, to keep our developer community in the loop. Beyond that, the "Guides" and API "Reference" subsections are now singularly focused on Webex Calling, making everything easier to find.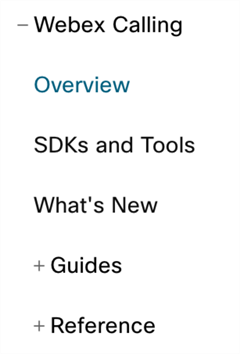 New Quick Access Card
The "Getting Started" section on the top of the navigation pane takes us to a page with a new card-based layout for content for getting started on the various Webex developer platforms. Included on this page is a card for Webex Calling, which may be updated as new content is added. Currently, the first link: Calling API Overview takes us to a blog post, which is a great resource for a high-level look at the available Calling APIs. Next, is a link to the new Webex Calling Overview page, as mentioned earlier. Again, that page gives detailed insight for locating the proper platforms and how Calling developers can best navigate this site. Finally, the link for Calling Vidcasts which takes us to the growing collection of short-form videos on the topic of Webex Calling APIs. All this important information can now be accessed quickly and easily.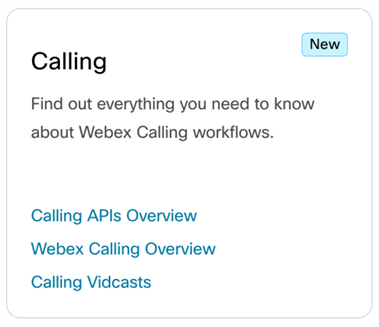 Developer Support is Always Here
As usual, if there are any questions or concerns, our Developer Support team is standing by ready to help. Whether it's a question about coding, use cases, or troubleshooting assistance, we have got it covered!